Hello everyone!
Did you miss us? Today something interesting is coming up. Meet Monika! An amazing fashionista from Chicago. Yes yes yes, she will share with us her inspiration with colors and fashion and show us how to combine colors in your stylish looks and look really in trend and gorgeous! Also, read our small interview with Monika after the article.
So, let me introduce to you Monika closer.
Originally from Poland living in Chicago, amazing mum, creative nature, and just a great person - all about Monika! Her blog dedicates to her personal style, in which she expresses her personality through fashion inspirations. She loves colors and that's where her heart is. She likes to put her own spin on trendy and "in" items and make them work for her own style. Playing with styles and personalize them (personalization is just what I personally love) - it is such a finding to find out someone who is able to bring some new fashion ideas.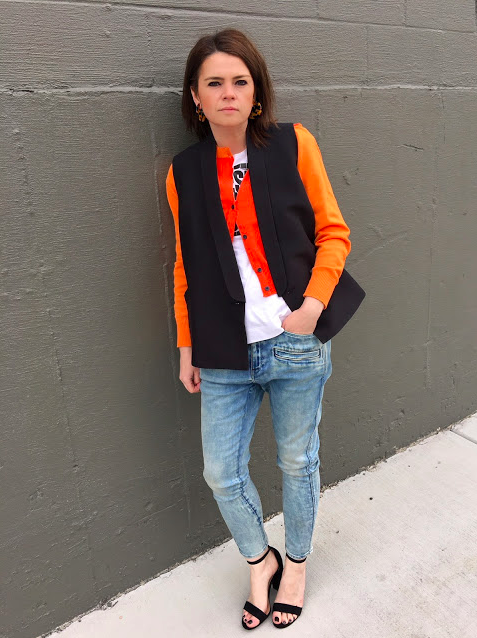 Let's see by ourselves! I am so impatient to introduce you her fashion dimension!!
Do not also miss our small interview with Monika after the article 😉
How to style polka dots and Gingham + ruffled skirt for summer looks!
By Monika
Monika: "The blue is this clear-blue-sky color and just screams SUMMER! I didn't want to pair it with anything contrasting, so I opted for jeans in a light wash that almost in a way is a very similar color! I also intentionally wanted to pick up the white off the polka dots so you see a white bag and white sneakers here. I say 'intentionally' because many times in my case I pair items last minute or plan on one thing, but then change my mind in a spur of a moment. But here, I deliberately wore white accents and hey... I can never say no to wearing my Converse sneakers anyways...
I said before that this top is so summer like to me and so another way to wear it would be in a very I-am-on-vacation kind of way, so think a maxi white skirt and a straw hat!"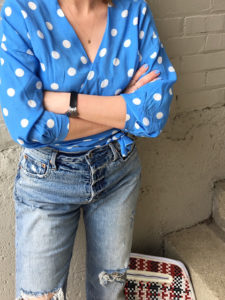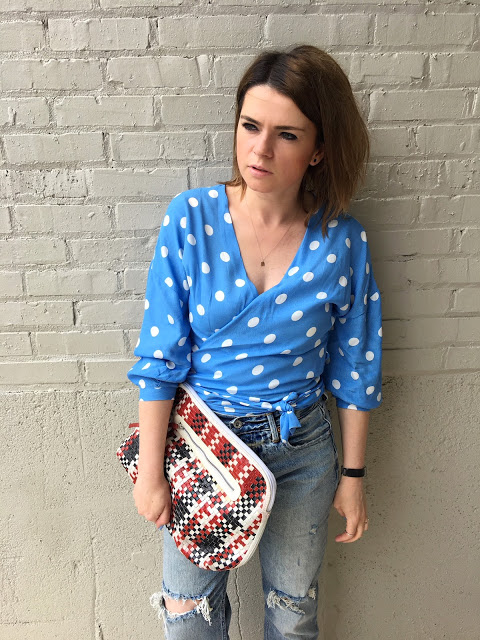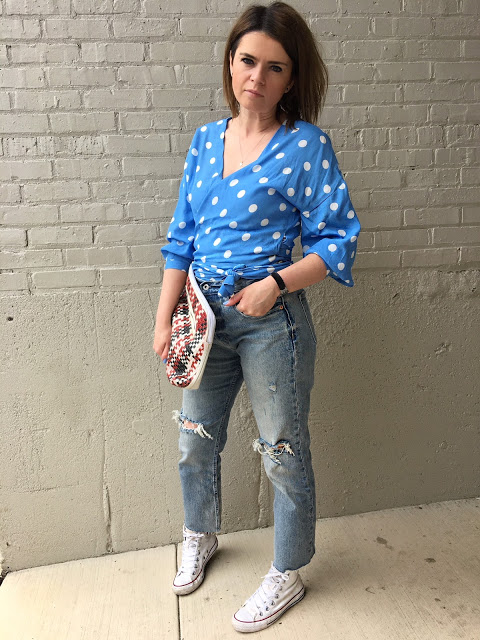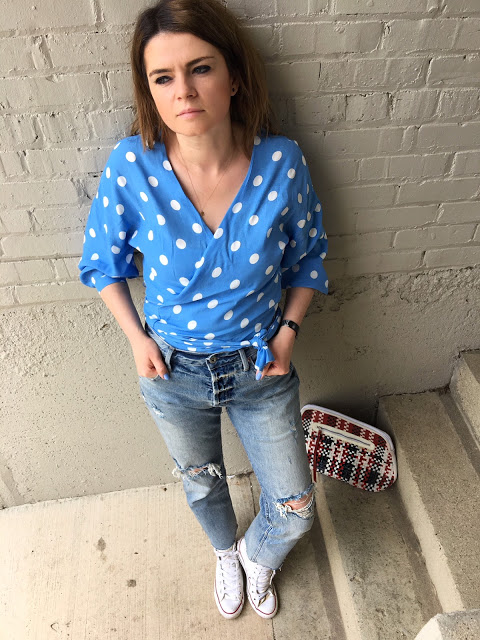 All Monika's looks are so practical as you can wear them in different situations and occasions. So yeah! Blue polka dots blouse, jeans, and converse - in such a look you can go almost everywhere (also you can just put on your heels and ready to go to the fancy dinner or a nightclub).
For a summer look we all are going for skirts, why not? Comfy, you are not hot and it makes you feel more feminine <3 Let's have a look at Monika's choice and also she is giving some tip, which honestly was a totally new discovery for me.
Monika: "Anywho... My skirt is a recent buy, but I have seen this skirt around last summer too. I first saw it (or a very similar one) on Amber of The Barefoot Blonde blog and loved how she styled it. I love the vibrancy of the red and thought, why not step outside the box and do a red lip too? So here we are, wearing lipstick today, which I NEVER do, but it felt good to do something different."
Recent buys are always the coolest one, don't you agree with me? See how cool, fresh and trendy Monika's look is. I think it is perfect for summer strolls. Also, an interesting fact that it will fit almost every environment or occasion (as the blue blouse and jeans). To me, you can wear chilly this look during the day (nice stroll in the park, going to a museum or gallery, meeting with friends, go on a date - omg - etc, because I can't stop, but you get it), also you can choose this outfit for some evening events as well (if you, ofc, don't scare to bring some brightness during the evening 😉 ).
And yeah the TIP! We all familiar with the PROBLEM which name is WIND! Thanks to Monika we have a SOLUTION! For smarty girls - there are such things, which name is - Dress Weights. This is - small patches which are invisible and you add them to the inside hem of the skirt, in regards to them the skirt is weighted and the wind is not a problem anymore! Hell yeah! Obviously one must0have in your wardrobe.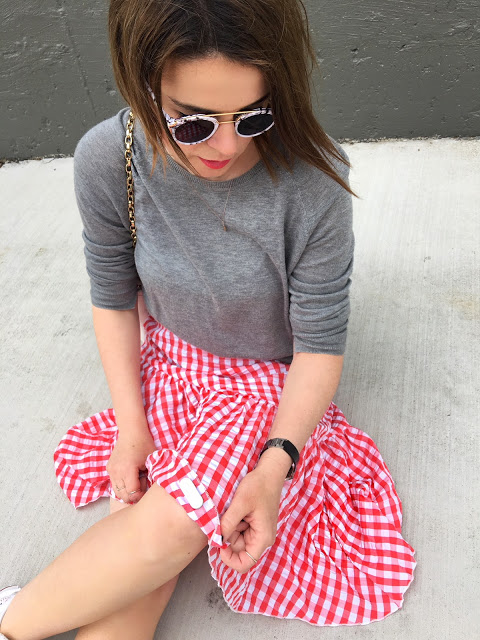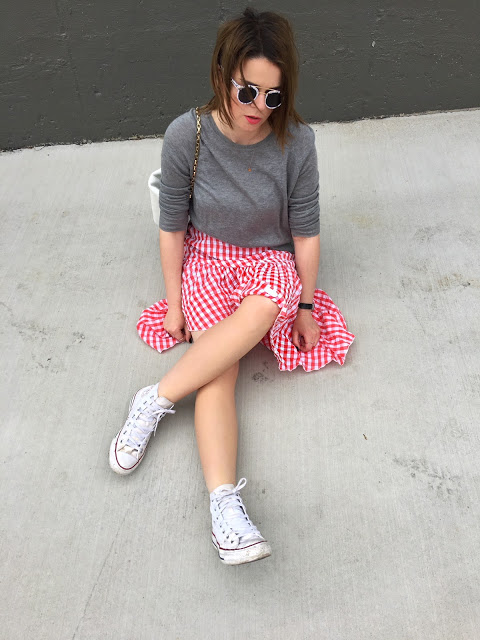 What do you think of Monika's fashion solutions? Have you found out some new inspirations?
I like the way she is using colors in her casual outfits - check her social media as you will find some really interesting color desitions for your looks. Like you will literally set up a small journey of colors with Monika.
And here happy to present our small interview with Monika, where she shares with us some interesting info about her inspirations and favorite brands. Scroll down and enjoy 😉
Monika (Some Pop Of Color) for Kate&You
When and why have you started your blog and what was the motivation for it?
Monika: My motivation for starting my blog was simply to have an outlet to express myself artistically. My blog is so much more to me than just showcasing the clothes or accessories; it is about the design of my page, the colors and everything that goes with it. I love planning ahead and so it also serves that purpose; I plan what it will look like in the future, what my posts will be about and I have so many ideas for what it could be down the road.
What is important in your style? how do you find your inspirations?
Monika:I love color, as my name suggests. So for me, it's mainly that; I get inspired by color but also by other fellow bloggers. Seeing their beautiful imagery pushes me to do better.
What can't you live without (accessorize or clothes)? the most important attribute of your everyday look? 
Monika: Ha! That's a hard one, probably shoes do it for me. I can never say no to a new pair of shoes.
Do you have a favorite brand?
Monika: My favorite brand (I am wearing) is Asos, Helmut Lang and 3.1 Phillip Lim. Those that I can't quite afford (or just have single items of), but admire would be Balenciaga, Delpozo, Viktor & Rolf, Chloe, DSquared2, Stella McCartney.
Do you prefer to shop online or in the local stores?
Monika: It's online for me, for sure.
If you cannot find an item you want to buy in your country (local store or it is only shipped from the other country) what do you do?
Monika: I try to hunt it down regardless. I will look on eBay and other similar places.
Do you travel just for shopping? If yes, which is your preferred destination/destinations
Monika: No.
Do you agree that women should always remain women? I mean do not give up on themselves and pay attention to their style.
Monika: Yes, for me the way I dress is an expression of my personality. It may sound cliche but it is so true. What I wear puts me in a certain mood and I always want to be in a good mood, so yes, it is important to me. I say that everyone can find their style and once they do, they will stick to it because it will be unique to them.
Which kind of style/personal advice can you give to everyone (women, young girls)? Something encouraging
Monika: I would say stay true to your style and who you are. Another cliche, I know. But that couldn't be more true. I find that when I stay true to myself, it goes a long way. I find inspiration in other women and when I think I can go a certain route style-wise because something specific inspired me in someone, I then discover that if it's not who I am, it will feel forced. I don't want my style to feel forced and also no one should feel like they need to fulfill someone else's expectation if that makes sense.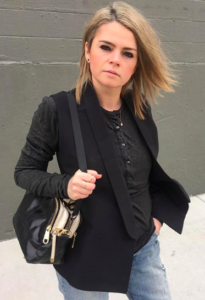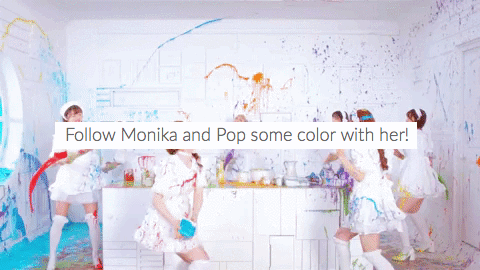 By Monika - Some pop of color w/ Anfisa